Our breeding mums have a maximum of four litters in their lifetime so are very young, normally four or five years old when they retire. We then have them spayed and they go to new loving homes. Below are all of our 'old girls' enjoying the retirement they deserve.
Echo
Hi Julia and Stephen,
Wanted to let you know that I've had a lovely couple of days with Echo and she's settling in well. We walked 7 miles together yesterday around the local boardwalks - she's been brilliant on the lead, has been excellent with other dogs we've met and has listened well to instructions. Echo absolutely loves being allowed on her blanket on the sofa, we've had lots of cuddles - and my children think she's the best thing ever!
Will keep in touch and let you know how she progresses but so far so good!
Best wishes
Liz
Saffi


Hi Julia
Just to let you know that Saffie has settled in really well. Amazing in fact.
She's had a great day swimming in the river and endless games of ball with our son's cocker,
Miss Aly. She's the same age as Saffie and they're really good mates!
So, so far so good! I'll let you know how things progress.
Best Jill



Hope you like these photos of us taken on Stinchcombe Hill, near Wotton-under-Edge, in Gloucestershire today.
Poppy has settled in very well. We look happy, don't we? We've had off lead walks before but this one took some beating. During the first couple of weeks she was obviously getting used to the huge change in her life and didn't stray far from me, but today she raced away in the sunshine like a bullet. Several times I thought she had disappeared but she would reappear half a mile away. Too late to realise I'm too old for such an active little dog!
At home Poppy is happy to sleep while I'm working or she brings me one of her toys to remind me to take notice of her. You didn't tell me Poppy had a criminal record! Three times she has stolen a shortbread biscuit from my plate when I left the room. I'm wise to it now though.
Poppy has taken the visitors and family in her stride - all three children love her (great nephews and great niece). Emily (4) especially loves to cuddle her on the sofa and the boys can't wait to come on a walk during half term.
In the mornings, if I'm not up by eight, Poppy snuffles and licks my face until I decide to go downstairs. Then the toys come out.
One strange thing is that so far she will not go into the garden on her own. Perhaps she thinks I'll shut the door and not let her back into the warm. The railings are up along the front of the house so there's no danger that she'll fall off the wall! Looking forward to the spring and summer when we can spend loads of time outdoors and Poppy can help me with the gardening.
Poppy has a wonderful temperament and everybody likes her. We had a photo shoot with our MP on Saturday so that he can show how committed he is to dog welfare.
Thank you for Poppy and for treating her so well.
Carol
Lucy left Dec '14
Just to let you know that Lucy has settled in really well after almost a month with us. As you can see even the cat Dennis, who was initially very unimpressed, has now accepted her into the house and sharing the fire with her!
She is now having lots of walks off the lead and comes back well when called. We did get a crate after two days as it really gave her that security she needed - should have got one from you!! She's visited the pub in the village a couple of times where she gets loads of attention.
The only thing she really hates is getting in the car. Very reluctant to even go near it. She's been sick twice on slightly longer journeys eg 30 mins or more, not sure if this is due to being stressed or motion sickness. Apart from this she's doing fine.
Molly left March '14
Mia left end '13
I'm just writing to let you know that I am very happy in my new home (they have taught me to type!) I get taken for lots of walks and although I am not very sociable with other dogs I love being fussed over by the humans! I'm a good girl most of the time except when I spot a rabbit!
I' m loving retirement.
Happy Christmas 2013
Love Mia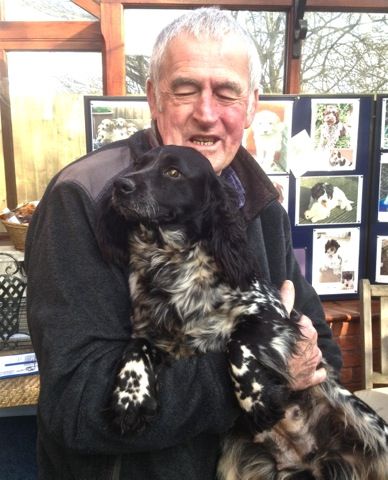 Wills left end Feb '13
Following in the paw tracks of Bonnie who lives with Carolyn and Stuart (see below) and Pearl with Carolyn's daughter, Wills has found her new home with Carolyn's brother. Keeping it in the family.
Suzie left Feb '13
Officially the happiest dog alive ! Suzie left for her new home and was bumped into a couple of months later in the woods by Karen, one of our fellow Founder Members of The Cockapoo Club of GB who snapped these photos. She reported that Suzie looked happy as ever and is very much loved by her new family.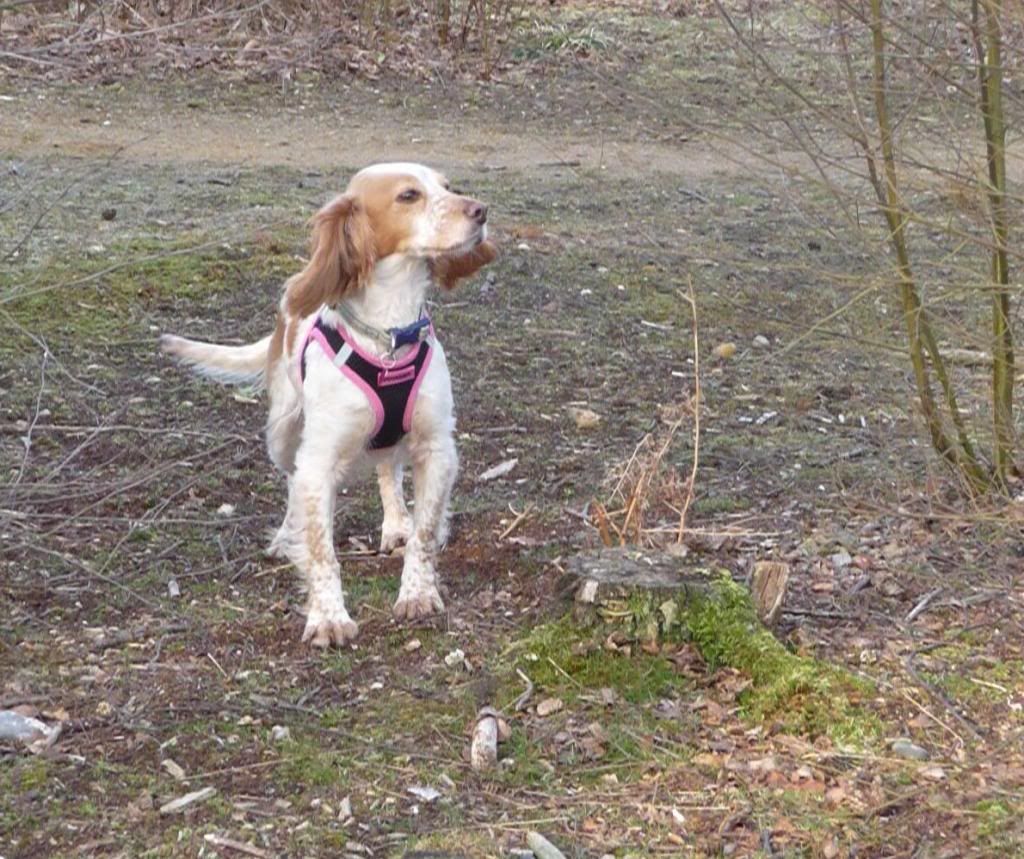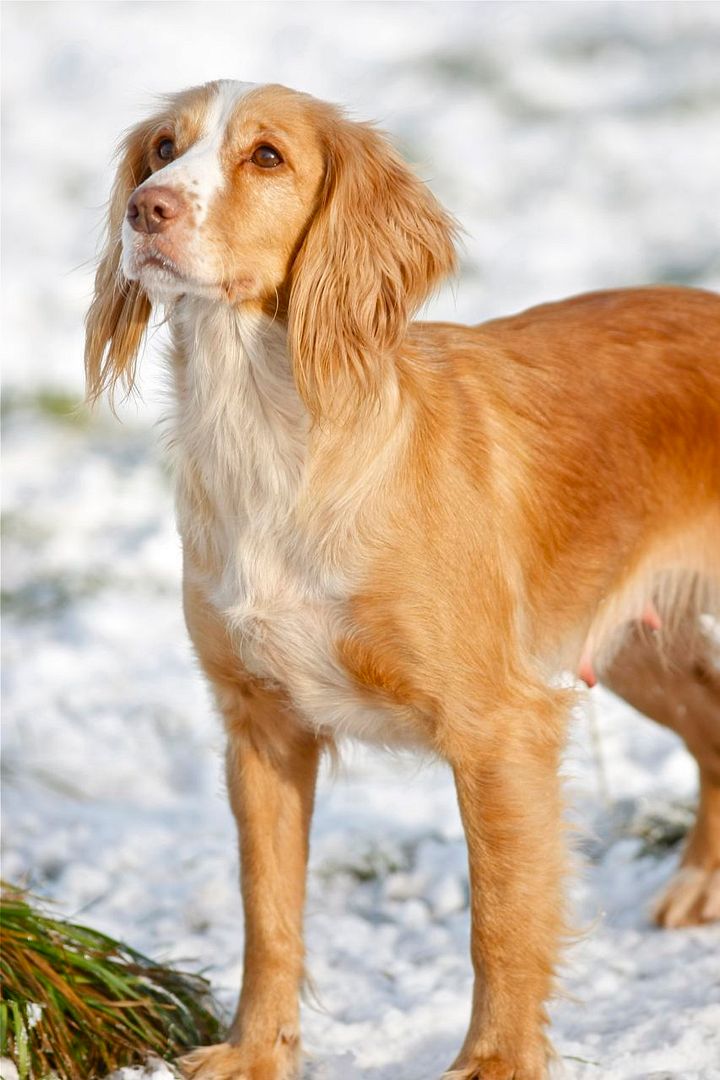 Honey left Feb '13
After placing a deposit against Honey months before her last litter was due, Honey's new family finally got to take her home.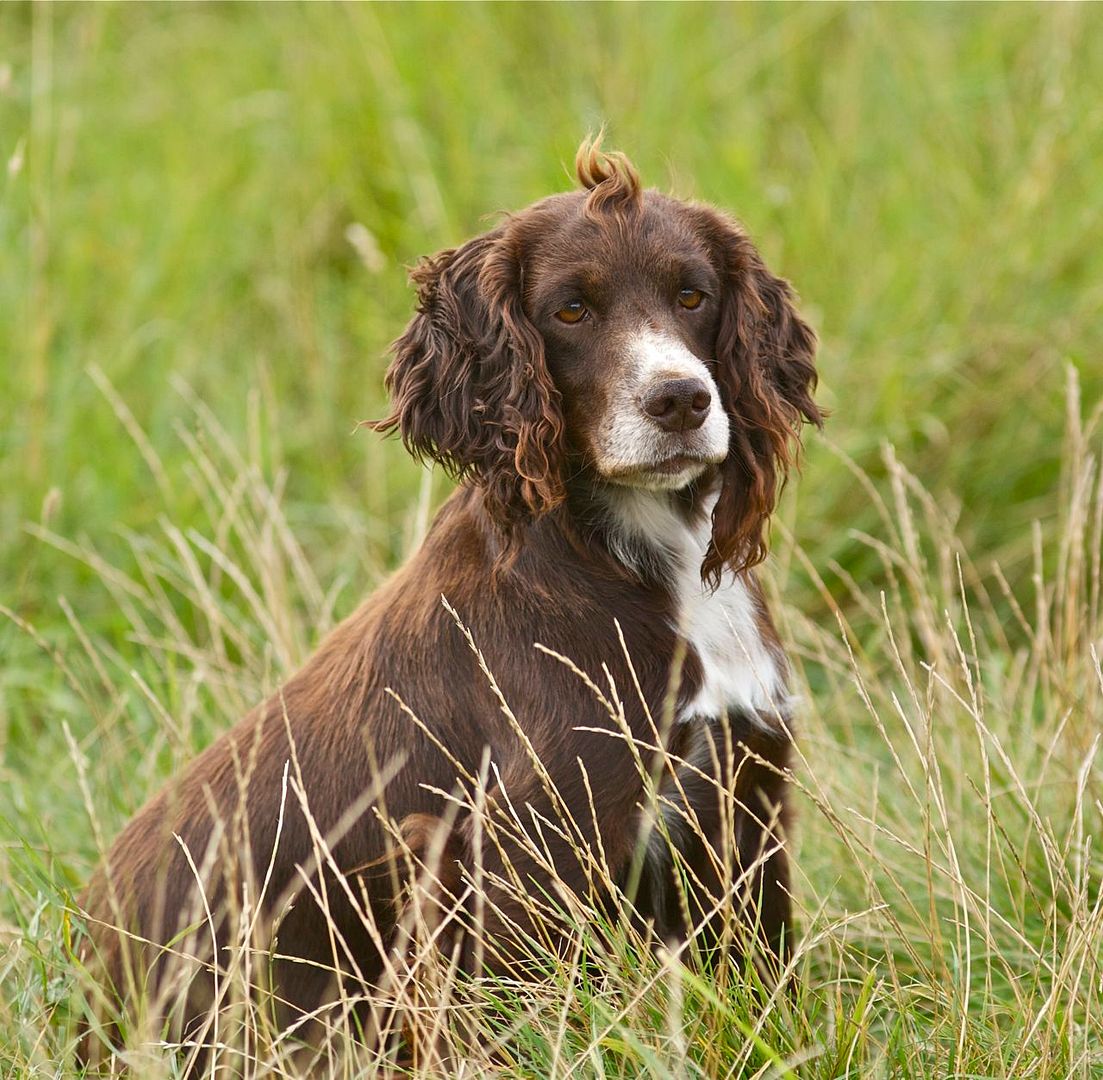 Rose left Nov '12
Hi, just a quick message to say Rose has settled and were loving the new addition to our family.
Thank you x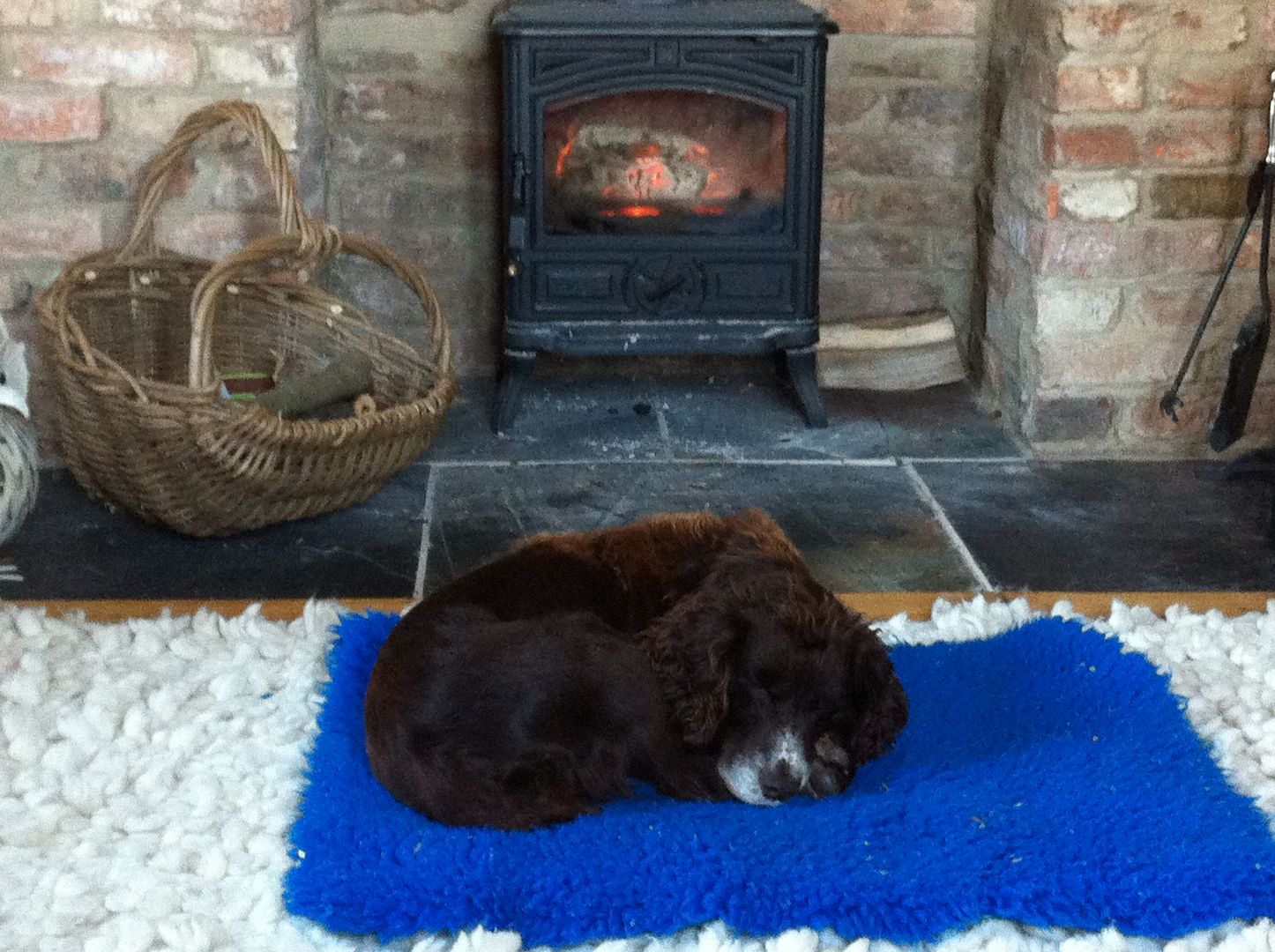 Hi Julia and Stephen,
Just thought I would write you an email to tell you how Rose is doing. She has settled in we'll and definitely part of the family now. She loves our chickens and has an obsession with them, So much so she has worn a trench around the pen! She loves anything with feathers ducks, pheasants etc... She attended obedience dog training and I am now whistle training her. She had no interest in retrieving balls etc.. So I bought one covered in rabbit fur which she loves and will retrieve all day.
She has been on a few holidays with us all over the UK. She has also been caranavanning which she loves. She is definitely a explorer, just like us. She has had a reunion with Honey and definitely recognised her as she behaved very differently. I have added a few photo's for you... Kind Regards Nic and Chris xx
Buzz and Yum-Yum
When we kept Buzz and Yum-Yum two years ago we were still hobby breeders and as such had them both castrated. Since that time the demand for our puppies has gone through the roof. So much so that last year we made a decision to devote our lives to breeding Cockapoos and set about gaining a Council Breeding License and got one in May 2011. Even though we have increased the number of breeding mums to a level we feel comfortable with our waiting list grows ever longer.
Then came the formation of the CCGB and with the rest of the development team we thrashed out a Code of Ethics, minimum Health Testing and low ideal Inbreeding Coefficiency levels for anyone considering breeding F2, F3 + Cockapoos etc.
We were aware that our two stud dogs, Ziggy and Uncle Fester are indeed nephew and uncle which means that all the current JD pups have common genes. We don't think that it is very responsible to flood the Cockapoo community just with those genes so we have made the decision to buy in two more stud poodles so that JD pups from 2013 onwards will have a much more diverse genetics. We already have the first pup here, who is 12 weeks and the second one we collect at the end of April. We are not going to reveal them yet as even though both of their fathers are DNA tested clear we need to double check that these two are clear themselves before they join Ziggy and Fester as daddies.
Now with the interest in Cockapoos snowballing we have been asked to think about having some full health tested Cockapoo Stud dogs available. So we have a plan now to keep one Cockapoo boy from each of the 4 poodle dads both as stud dogs and to show our visitors an adult offspring from each dad.
That said, some of you will know that we keep our Poodles and Cockapoos as house dogs. We have had up to seven at one time so far and that was OK but getting toward the limit for us. So if we have 4 x Dad's and their 4 x Son's that makes 8 dogs in the house..........plus Buzz and Yum-Yum would make 10 ! We have to be sensible and if we kept too many dogs then we wouldn't have enough quality time with any of them and so their lives would suffer.
Buzz has gone much sooner than we planned as when Heather and Keith came to visit us they fell head over heels in love with him. Keith then phoned up to go onto our New Year 2013 waiting list and very carefully (bless him ) asked if we would ever consider re-homing Buzz. He didn't know about our in-house discussion about future plans at that time. We had a lot of family discussions and decided that the Martin's would be a perfect family for Buzz so the home overruled the fact that is was sooooooooo soon.
I am very happy with Buzz's new home and thrilled that Heather is on Cockapoo Club Chat so that we can have a window to see how he is getting on. J x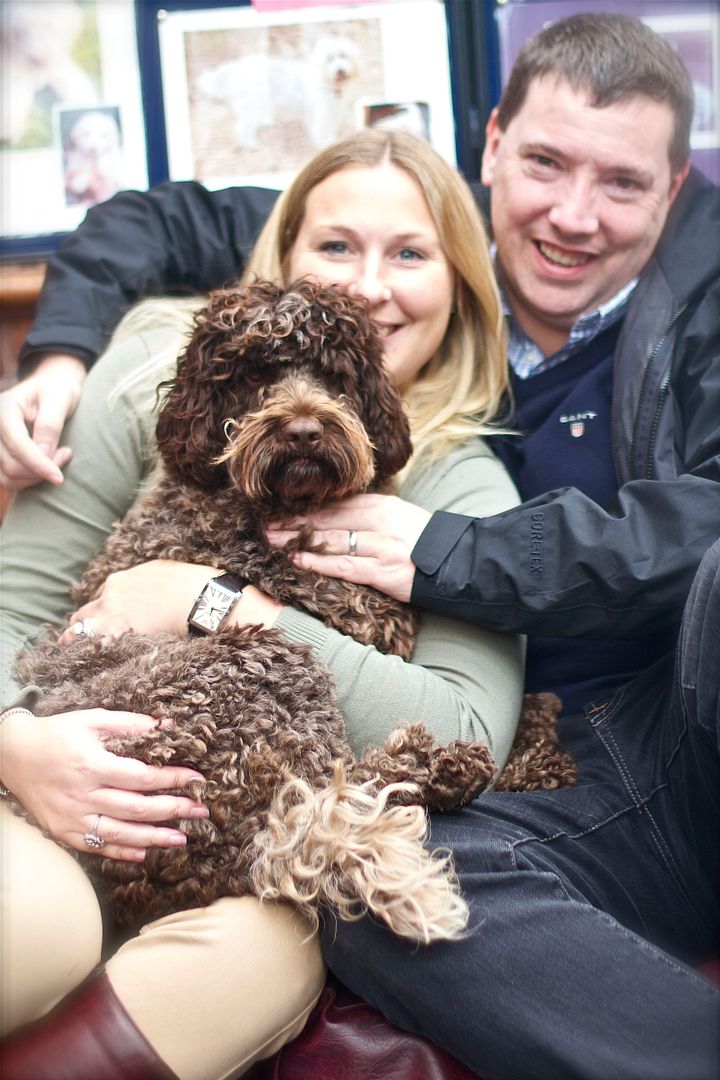 Buzz with Heather and Keith
Just wanted to say Hi and tell you how much fun we are having with Buzz. He's been the most amazing addition to our home and we both adore him. As I type this he is sitting on my lap trying to get my attention and growling at the umbrellas going by outside, he is constantly making us laugh.

It's been sooo wonderful watching Keith getting to know him and the breathing problems he experienced when we first brought Buzz home have diminished, he isn't quite cured but I don't think it will be long. I love hearing him roar with laughter when Buzz has jumped on his lap and is kissing his chin, he frequently gets in the way when Keith is trying to work on the laptop, he's a very clever boy!!!

Walking him is such a joy, he's so good, the growling has disappeared and provided the other dog minds it's manners Buzz is an angel - we have discovered he's an impeccably well mannered boy and won't tolerate rude behavior from others, a quick tell off to put them in their place and then it's all sorted. He loves loves loves his weekly playdate with George, they chase and box and jump all over the place, every week that passes Jayne (George's Mum) says she sees a difference and more and more confidence in Buzz. I just love watching them play and think it's great for him to have fun with another poo, he can spot them a mile off in the parks!! Watching him chase scents in the park is so funny, he darts this way and that way, and loves chasing pigeons, squirrels and crows. He goes bananas in the little hillock areas - I think he can smell the rabbits and there are a couple of places where the bunnies play that send him insane. We must look very funny him going dooolally and me doubled over laughing. I've trained him to stay with me when bicycles go past and he now leaves the swans, geese and ducks alone - that one took a bit longer to master, particularly the ducks!! It's been soooooo wet since we got him, he's got the whole drying off business before he comes inside down to a fine art now, offering up paws for the towel and rolling over so we can dry his tummy, sweet!!!!

We went to the Cockapoo meet at Denbies yesterday that Sue organised, I was in complete poo heaven, all the dogs were beautiful and all so different, but what was so wonderful was how well behaved they all were, quiet, chasing, playing and sniffing everything, it was so wonderful to experience. Buzz was an angel and although he did charge off a couple of times he pretty much stuck by my heels for most of the trip - is this usual for him?? Or do you think he's still Understandably settling?? Bless him there was one time when he left my heels for a play and then had a complete panic cos he couldn't find me again, he was searching all the legs and everyone was saying she's there, she's there and I was calling him and he was looking and looking, needless to say he found me eventually and I thought he was going to jump on my shoulders for joy!!! I just adore him.

He's eating really well, loves his chicken carcasses and veggies!! He woofs down his veggies!! He's sooo funny he takes his carcass off of his place mat and plays hide with it under the dining chair legs, our cream rug under the table has never been scrubbed so much!! When Keith has a break from traveling we are going to take it up and hopefully get Buzz to use the washable mats I've bought him, I suspect he'll find his own place though.

Everyone that meets him falls in love with him, he's quite the charmer huh?! I worked on me though!! He's met virtually everyone, there are still a few friends who haven't seen him yet but it's been like (I guess) having a baby, everyone has wanted pictures and visits. My nieces are all beside themselves and we have had endless offers of we'll have him if you need to go out/away.

I feel a bit bad as I haven't actually yet done anything about classes or agility for him but to be honest we've been too busy settling him into our home and routine and to be very frank enjoying cuddling him!! I will do something soon though, I think both of us would really enjoy it.

He's such a wonderful companion so loving, he just wants to be with you, a terrible time waster and such an entertainer. He has been such a wonderful addition to our home, keeping me company while Keith is traveling - Keith thinks he's been outsmarted by a pooch, saying Buzz gets more cuddles than he does!!

I had a lovely IM from the new owner of Yum Yum - Julia I hope you weren't too broken hearted again. We are going to try and meet up when they are in London, which would be FAB!!

Hope your new babies - poodles are settling in well.

Thank you thank you for letting us have Buzz!! We feel so lucky and as you can tell we are so happy!!!!

Love

Heather



For the same reasons that Buzz left us a few weeks ago, Yum-Yum has today gone to a new home. He has gone to live with a delightful couple Phil and Rachel Hibberd who live on the Malvern Hills. Yum-Yum will slot straight into their busy lives running a company that holds photography courses all over the country. Photography Made Simple He will travel everywhere with them on location and probably be used on courses to pose for portraits for the students. So we hope for some stunning pictures for our gallery in the months to come. Rachel has always been very interested in PAT dogs and Yum-Yum's gentle and friendly character could be just perfect for that role.
'Absolutely!!! I just couldn't bring myself to get up there on my own! (Malvern Hills) And only 5 mins from home! Yum-Yum is the perfect dog in every way.....we can't find fault with him! We've had dogs before, and can't believe our luck, so thank you for breeding amazing, special, and wonderful dogs. And I'm super-delighted because he follows me wherever I go! (Which is what I dreamed of) .... but not in a stressed was, (jan fennell dog listener stuff), just because he's my dog. Bliss!!! Thank you sooo much julia and stephen....I tell everyone about you! Take care and hope to see you again in the not too distant future!' Rachel xx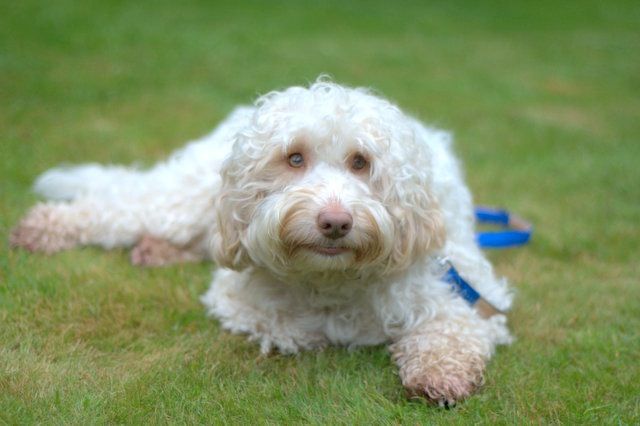 Here at JD we now only allow our girls to have anything from one to a maximum of four litters in their breeding life. So by the time they are 4 1/2 to 5 years old we have them spayed and then start our search to find them a forever pet home. Seeing our lovely girls leave is much harder than seeing the puppies go, as we have played with them and loved them for the years that they are part of our family. Thankfully in the last five years we have been successful in finding them the best homes with lovely families in which to thrive in their retirement, whilst still young enough to have years of being a loyal and loving pet.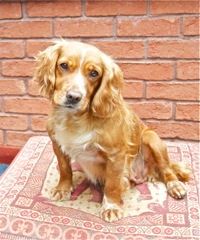 Bonnie will be reunited with Pearl during holiday times as she has a new home with the parents of Pearl's family. Bonnie worked as a gun dog before coming to JD at 2 years old, she has been a favourite girl here for 3 years and been a brilliant mummy.
Dear Julia and Stephen,
Just to let you know Bonnie has totally settled in. We take her a good walk each morning and then she spends most of the day in the garden with us.
She is so obedient and loving and seems totally at ease with us.
We are absolutely thrilled with her and as you can see she seems to like us too !!!
Best wishes
Stuart and Carolyn
We have been involved in the new guidelines for breeding regulations for The Cockapoo Club of GB in light of DNA testing results proving some pups being sold as Cockapoos are ending up not being as sold. So it has been set that all CCGB registered Cockapoos must have proof of ancestry back to the original breeds and as a CCGB Approved Breeder we abide by these rules.
We have been raising two lovely working cocker spaniel girls, Missy and Daisy, who are both now just over a year old but neither of them have KC registration papers. As such we therefore do not have a paper trail to prove their ancestry. So sadly we are going to have to find them new forever homes.
UPDATE: Just 6 hours from announcing them Daisy has gone to a small sheep and arable farmer in Kent to train up as a gundog. It was fascinating to watch as he spend an hour here chatting on the decking with the two girls just milling about and it was Daisy who chose him, taking the dummy to him and snuggling up on his lap. When we put Missy back with the girls, to see how Daisy would react she just jumped back on the bench and sat beside him, she made the decision.
Update 9th June 2012: This afternoon Missy has gone to join a lovely family in Colchester who have 5 children between 7 and 20 years old and a beautiful 7 month old chocolate Sprocker boy puppy. The two dogs hit it off straight away, a perfect match.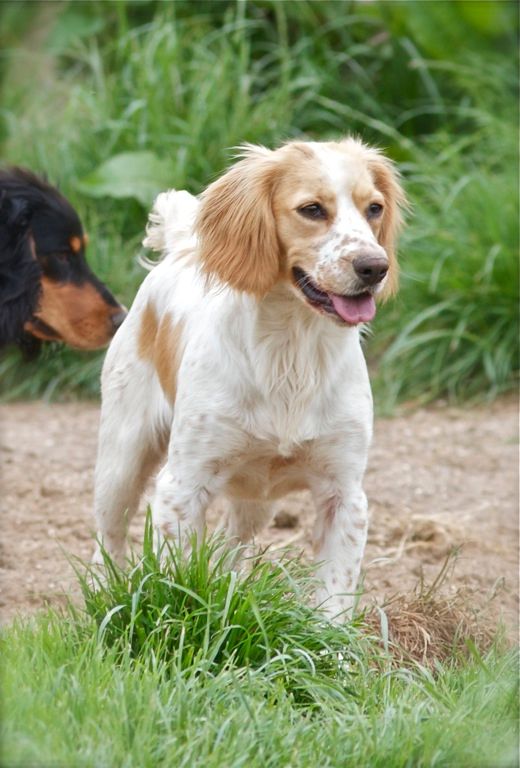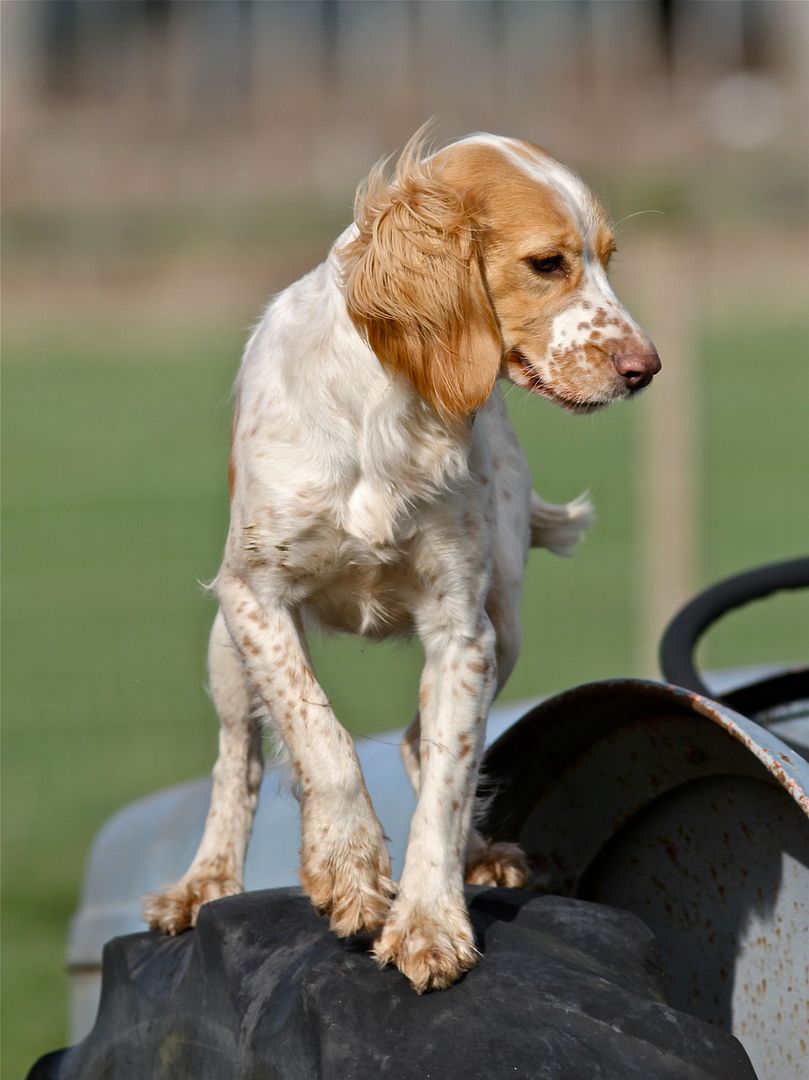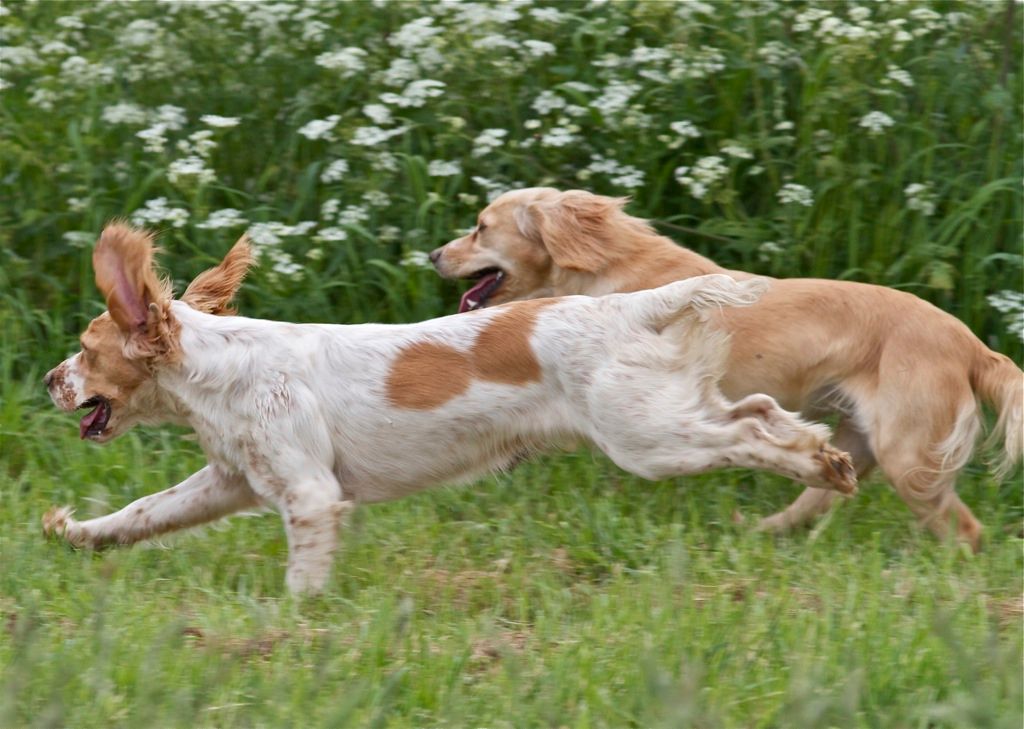 Just a few lines to let you know that Molly has won the hearts of all the family.

She was an absolute pleasure in the car and kept herself clean all night without being in a crate.

She has been introduced to the fields, woods, rivers and wildlife of Cholsey and Chalgrove in Oxfordshire and has showed us how keen she is to 'play' with rabbits, pheasants,ducks geese and turkeys. We have discovered that Molly is not adverse to trying to introduce herself to the Kite Raptor population either, even if some are twice her size!. Molly totally ignored anything smaller than a grouse.

She has introduced herself to next doors' cats but they are less than happy to play!!

Our local pet store knows all about the BARF diet and can supply us with chicken carcases and Natures Own pre-formed chicken nuggets and nuggets blended with fruit and vegetables.

We will keep you updated from time to time especially in the summer when we can take some better pictures.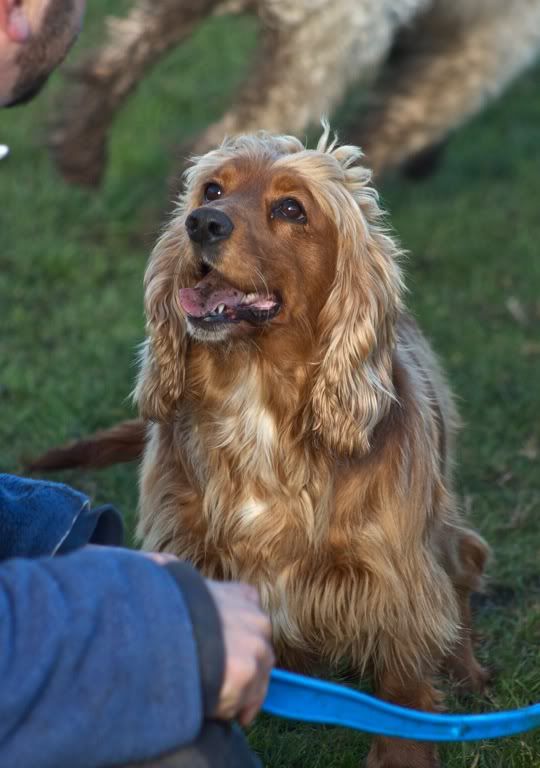 Hi there

The journey down was a bit long but I slept quite a long way and stopped for a quick wee at Peterborough.
My new home seems really nice, I've found my very own chair already :-) and I'm going to shred this ball in a minute.

Will write again soon

Love Pippa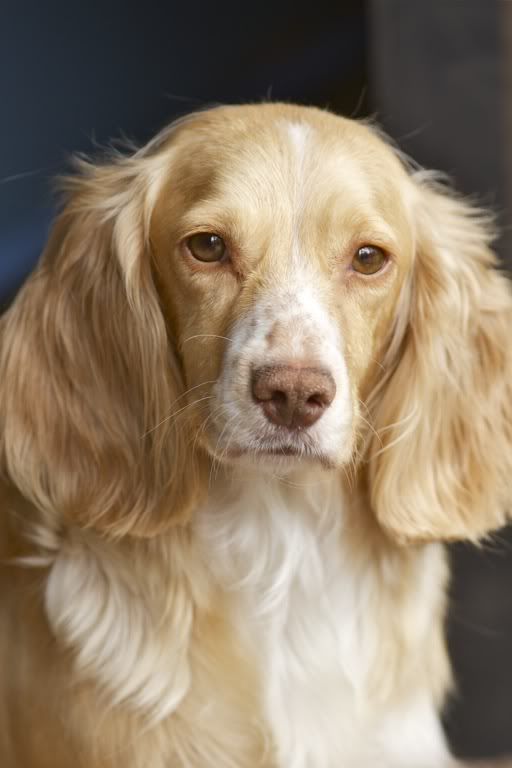 Text...day 3 enjoying the common
Just thought I'd drop you a line and let you know how Pearl is progressing.
She has settled in brilliantly! I think she is loving being top dog in our family!
We had one day of wobbly tummy when we transferred her on to complete food, but fine now. She is loving our sofas, especially one we have with a big furry rug on where she snuggles with William! She has been very well behaved and likes sleeping at the top of our stairs, so that she can keep an eye on everyone!
Just a short note to let you know how Daisy is doing she has settled into our family very well and loves all the attention she recieves. She did take a while to ajust to living in a house on her own we think she missed all the other dogs she does have Freddie to play with he is my sons dog. Daisy loves her walks over the fields come rain or shine she goes out twice a day, we love her very much and would like to thank you for letting us give her a very loving home. We wish you both a Merry Christmas and NewYear and a big lick from Daisy. regards Wendy
Ellie went to a young couple in Falmouth. They were so happy with her that they came back and took her kennel mate Tandy, just 5 months later so they are reunited.
(E-mail we received 19 Nov 2013)
Hello, I stumbled across your website and though you might like a little update on Ellie and Tandy. They are both still very well and very active. They absolutely love the beach, their food and cuddles! They came to our wedding in 2012 and are loved by everybody they meet. They do also love their home comforts and in the house are usually found snuggled up on their chair! We are moving house next month and will have an even bigger garden for them and will be just 10 minutes from the beach! We have a new addition to the family ( human kind!) and they have has perfect manners and adapted to having a baby in the house really well. I have attached some pictures.
Tilly left Jan '10